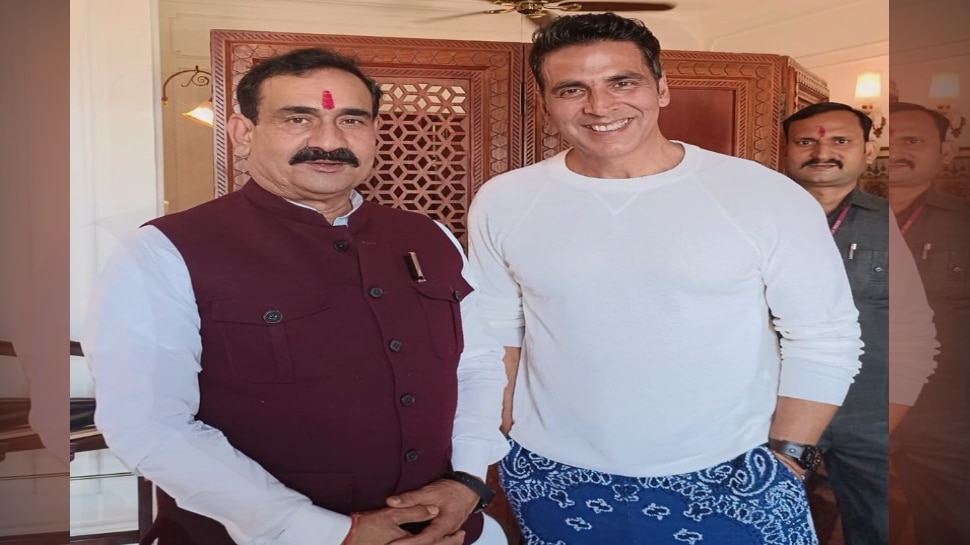 Film actor Akshay Kumar, who is called 'Khiladi' Kumar of Bollywood, is in Bhopal these days.
He is liking Bhopal, the capital of Madhya Pradesh, but his tight plan has gone haywire due to the wonderful taste of the food here. Akshay Kumar said that the food here is amazing, which blew all my diet plans in the air.
On Tuesday, Home Minister Narottam Mishra reached the capital's Hotel Noor-us-Sabah to meet him. In the meeting that lasted for about an hour, the possibilities of the film industry in the state were discussed between them.
He tweeted this information. Narottam Mishra wrote, 'In the city of Raja Bhoj, Bhopal met film actor Akshay Kumar, who had come for the shooting of the film Selpi. During this meeting, there was a discussion about the prospects of the film industry in the state.
air blowing diet plan
Responding to Home Minister Narottam Mishra's tweet, Akshay Kumar said that it was a great pleasure to meet you Narottam Mishra ji. Bhopal is as beautiful a city as it has good hearted people and the food of Raja Bhoj's city is also amazing.
Akshay is in Bhopal for a few days
Akshay Kumar is in Bhopal for the last few days. He is shooting for his upcoming film 'Selfie' here, in which Akshay will be seen in the lead role.
The film was announced earlier this year by Karan Johar by sharing the announcement teaser, in which Akshay Kumar and Emraan Hashmi were seen dancing on the title track.
Emraan Hashmi, actress Nushrat Bharucha and Diana Penty will also be seen with Akshay in the film 'Selfie'.
Government is working for films
The focus of the government is on shooting films and setting up infrastructure in Madhya Pradesh.
Due to this effort of the government, the shooting of films is going on continuously in Madhya Pradesh. Now the single window facility has also started here where all the permissions related to the film will be available at one place.
People Also Search For Movie